Have you purchased your home's furniture, accessories, wardrobes, and kitchen cabinets? Curtains are one aspect of house decor that you simply cannot overlook. They are one of those essential pieces of furniture that can set the mood in a room. The possibilities are unlimited, from light and breezy to substantial and ornate, from simple colors to designs, from sheer materials to heavy opaque coverings. With so many different materials, and accessories to choose from, selecting the proper decision might be difficult.
Curtains are an important aspect of any home's design. It gives a room its personality. The fabric has an impact on the appearance and longevity of your curtain. Cotton, linen, silk, velvet, brocade, and chintz are just a few of the textiles available.
Because a rich set of curtains can instantly enhance the aesthetic factor in any room in the house, it is critical to choose the proper curtain fabric for your area and demands. Good curtains fabrics just change the ambiance of the room. Besides good curtains to complement, a bed needs a quality all seasons duvet cover that goes long way, good pillows, and a comfortable bedsheet. Curtains have a big impact on the overall look of your room. They make a space feel depressing if they are too heavy. The room appears unfinished because it is too light. Color, texture, and affordability are all important factors to consider when picking curtain fabric. Defining what you want your curtains to do for your room will help you choose fabrics that are both affordable and stylish.
When it comes to curtains, the options are unlimited, from sheers to black-out, every color on the rainbow, and a plethora of patterns in between.
Lighter fabrics can give a space a dreamy feel, while heavier fabrics have better light-blocking capabilities and are a good choice for homes in urban areas.
Aside from your personal preference and taste, here are some pointers for selecting the perfect curtain fabric:
Although certain materials appear to be highly appealing, they are not long-lasting. It is critical to select fabrics that will last a long time. If you want to be different, you can use any cloth you choose.
Man-made fibers are a better choice for rooms that get a lot of afternoon sunlight because they do not fade or decay as quickly as natural fibers like linen or cotton.
Always keep your budget in mind while selecting a fabric. The cost of various fabrics varies. Cotton is one of the least expensive fabrics, while silk is one of the most expensive. Curtains require different amounts of fabric.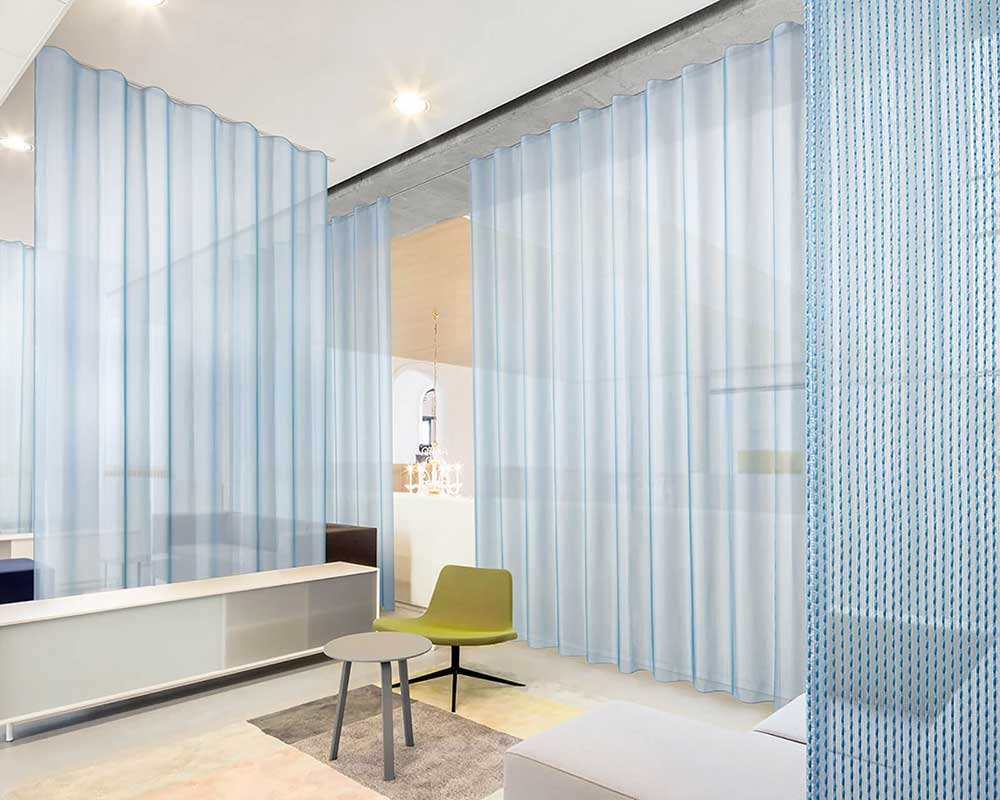 Some fabrics help to regulate the room's temperature and keep the heat in. Suede, velvet, and tweed are some examples of textiles that keep the cold at bay. Choose linen or cotton if you want the space to be cool.
Determine how much privacy and natural light you want in your room; this will help you choose the correct density curtain fabric. The thicker the curtain textile, the more light it will block and the more privacy it will provide.
Varied fabrics give the place a different look. Choose real silk or synthetic silk if you want a glossy and beautiful look. Choose linen or velvet if you want a basic and classy design.
Dry cleaning is required for many materials, including silk and velvet. Linen and synthetic materials, for example, can be washed and dried at home. The fabric should be chosen based on its intended use and upkeep.
You cannot use the same fabric in every room. Different fabrics are used for different purposes. You can use bright and delicate materials in informal spaces because they are only used for decoration. Fabric in the bedroom, on the other hand, should be neither too light nor too dark and depressing.
The size and style of the curtain have an impact on the fabric selection. Tab top curtains should be made of lightweight fabrics. Heavy materials curtains, on the other hand, are required for large, airy doors and windows so that the curtains do not fly.
Fabric that is loosely woven allows light to penetrate through it. A larger thread count, on the other hand, means less light will travel through. Choose a densely woven cloth if you want the room to be gloomy. Choose loosely woven cloth if you want the room to feel light and airy.
Choose your curtain fabric based on the amount of natural light in the room. Because some materials fade or become damaged when exposed to the sun on a regular basis, they should be avoided in sunny environments.
Fabrics are available in a variety of designs and colors. The fabric should be chosen based on the design and color scheme of your room. The fabric of your curtains should complement the rest of the room's decor.
It has a terrific way to add personality and intrigue to a room, and there are so many different designs to pick from that you can go as subtle or as strong as you like.
Fabric-selection procedures result in curtains that safeguard your privacy indoors. Choose a tightly woven light-blocking cotton or synthetic inner material to improve the protecting abilities of your ornamental fabric. To give a variety of partial-to-complete seclusion, layer your window treatment with collected semi-sheer panels against the window, followed by heavier drapes. Sheers let natural light into a room while also creating an elegant and luxurious atmosphere. Sheers also serve to create the illusion of space and are a relatively inexpensive method to adorn a window.
Think about what you want to accomplish. Curtains can be visually beautiful as well as functional. Knowing what you want from your window treatment will make choosing fabric much easier, as certain textiles are better at blocking light than others. So, just by following these easy tips, you can select the best fabric according to your room décor.
Happy curtain shopping.